MIMIC Virtual Lab creates a real world lab environment with a network of Cisco Routers and Switches. It gives hands-on learning experience without buying expensive equipment.
MIMIC Virtual Lab CCNA is sold to individuals as:
MIMIC Virtual Lab CCNA Cloud.
Click on Evaluate/Buy to use it free for 30 minutes.
MIMIC Virtual Lab CCNA is sold in two versions to training providers:
MIMIC Virtual Lab CCNA and
MIMIC Virtual Lab CCNA Plus.
While they share most features, the differences are detailed below.
MIMIC Virtual Lab is for beginners interested in familiarizing themselves with the complex environment and for intermediate or expert users looking to sharpen their skills and move to a higher level. It provides a safe environment to practice. You don't have to worry about bringing down the equipment/network and affecting other users.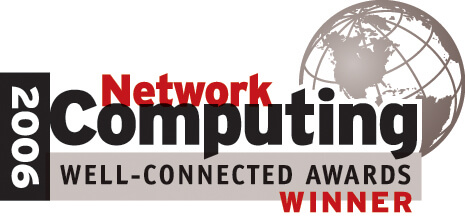 MIMIC gives Network Engineers the ability to practice for CCNA and other certifications instead of just reading instructions. It enables Training organizations to supply a Virtual lab to students with the classroom training or e-learning courses. Students can interact with Routers and Switches, just like with real devices.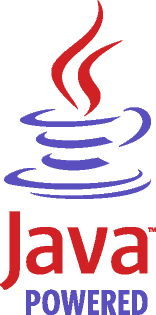 The Lab
Interact with the routers and switches, just like real devices:
Network of 7 devices
Cisco Routers (2811, 3640 and 7206)
Four Cisco Switches (2950, 3550 (2) and 6500)
A large set of IOS Commands for Router and Switch operations
LAN, WAN, ISDN and Serial links
Ability to Reconfigure the lab
Users can Telnet in to any of these devices as if they are connecting to real devices. You can open as many Telnet connections as the device supports. Users can also connect to it using a Console connection. It fully supports Cisco IOS® software.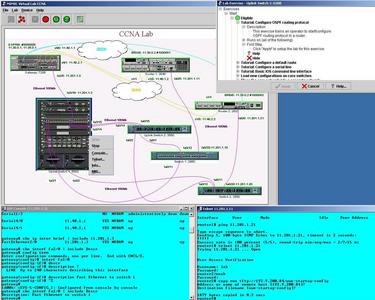 Lab Exercises and Tutorials
The lab includes many Exercises and Tutorials. This shows some samples:
Tutorial: Basic IOS command line interface
Tutorial: Configure OSPF routing protocol
Tutorial: Configure a default route
Tutorial: Configure a serial line
Tutorial: Configure Standard Access List on Firewall Routers
Tutorial: Configure Extended Access List on Firewall Routers
Tutorial: Configure RIP routing protocol
Tutorial: Configure BGP routing protocol
Tutorial: Configure EIGRP routing protocol
Tutorial: Configure eBGP mode BGP routing
Tutorial: Configure OSPF multiple-area routing
Tutorial: Configure Frame Relay
Tutorial: Configure NAT
Tutorial: Configure VLAN
Tutorial: Configure IPv6
Quiz: Neighbor device information
and many more ...
Device Operations
Logging in/out
Get into and out of different modes - User, Privileged, Configuration, Interface
Set passwords, IP addresses, clock rates, hostname, bandwidth
Assign routing protocols - RIP, IGRP, EIGRP, BGP, OSPF, IS-IS
Configure IPv4 or IPv6 addresses
VLAN configuration; Rapid-PVST configuration
Ping/Telnet other devices in the lab
Save/load configurations
Reload configuration using flash or TFTP protocol
Configuration of ISDN, CDP, PPP, Frame Relay ACL and NAT protocols
and many other functions required for certifications
Lab Operations
Start/Stop devices, individually or in a group
Reconfigure the lab by adding and removing connections between the devices
Save/Load a configuration of the network
View configuration information of a device or the entire network
Troubleshoot
View the topology with connections and addresses
Open Telnet sessions
Context sensitive help
MIMIC Virtual Lab CCNA Plus
This is a networked version of MIMIC Virtual Lab CCNA. It includes all of the above features and more:
Fully connected to the network
Support for SNMP
Support for SYSLOG
Telnet in to any device from any remote machine.
Discover and configure the lab/devices using Cisco Network Management applications such as CiscoWorks, CiscoWorks 2000, CiscoView and CEMF (CDM, GSR Manager), just like real devices. All the changes done using IOS are visible via management applications and vice versa.
Cost: $499.00
Feature Comparison
Click Here to view the feature comparison of the two versions of MIMIC Virtual Lab CCNA.
MIMIC Simulator Suite
If you are interested in creating your own devices and topology, the MIMIC Simulator Suite is available separately. You can simulate a lab environment in excess of 100,000 devices. It includes MIMIC Recorder to record Cisco devices to help create the lab topology you need.
More info
Evaluate: Connect to a live lab
Click Here to connect to a live simulated lab using MIMIC.
Evaluate: View a Flash Demo
Click Here to start the demo. The demo will show you all the features of the product.
Buy Now
Buy from:



Material on this Web page is not sponsored by, endorsed by, or affiliated with Cisco Systems, Inc. Cisco, Cisco Systems, and the Cisco Systems logo are trademarks or registered trade marks of Cisco Systems, Inc. or its affiliates. All other trademarks are trademarks of their respective owners.